03.04.2015 New GTAW Automatic Welding Machine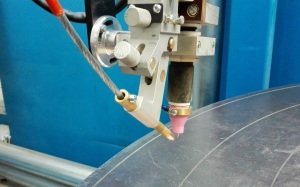 Tecnosaldatura is pleased to annunce that from today there is a new GTAW Automatic welding machine in their equipment.
This machine has been designed to meet the specific requirements of our customers in therms of corrosion resistance weld overlay and to implement new kind of job like NUCLEAR parts and Sub Sea valves.
This Welding tecnique garantees a very high quality perfect for most critical condition sectors.
Minimizing dilution for weld overlay and ensuring uniformity in the fusion and adhesion between the filler metal and the base metal this process has the peculiarity of being multi-purpose and therefore usable for the following operations;
– Butt Weld.
-Corrosion resistance Weld Overlay
– Hardfacing Weld Overlay
We are developing some welding qualification with Automatic GTAW tecnique according to  ASME IX code in order to validate the process.